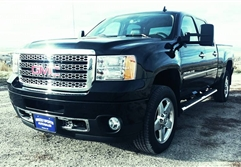 Are you tired of the usual car dealership buying experience? Switch things up and try something new with Grizzly Sports Auto Sales. There you can work with the owners personally to get a great deal on your next vehicle purchase. No middle man, no games and below retail pricing. We encourage you to shop around , compare prices and see that the cars and trucks on our lot are priced to sell ! If it's not on the lot we can find it for you.
Grizzly Sports is a family owned and operated Sporting Goods store and since 2012 has added the Auto Sales Division. You will find a no pressure sales environment and small town customer service. Our customers get a deal that exceeds their expectations. If you are struggling with negative equity on your trade in, don't worry, since we price our vehicles so far below NADA retail it will help you get that upgrade with an appealing deal to take to the bank.

Hi I am Becky Collins, Co Owner and Sales manager here at Grizzly Sports Auto Sales. I started this dealership in 2012 because I was frustrated with the high prices and intensely pushy experience of buying at a typical Used Car Lot. I decided to try a different approach to selling cars. Fair prices, nice vehicles and some integrity splashed in. A car dealer with a conscience ! I want to help people save money and not stress them out with excessive sales calls, emails , tricky sales gimmicks and too much pressure.
I have enjoyed all the people I have met a long the way. Our customers are thrifty and willing try a different approach to getting the best deal possible, Grizzly Sports Auto Sales.

Featured Vehicles

Dealership Hours
Monday to Saturday
7:00 AM to 6:00 PM
Sunday
By Appointment